Dentistry in San Jose
Read Bac V.'s review of Hieu T Dao , DDS on Yelp
Read Mary F.'s review of Hieu T Dao , DDS on Yelp
Read Jennifer Y.'s review of Hieu T Dao , DDS on Yelp
Read Kendra B.'s review of Hieu T Dao , DDS on Yelp
Read Nancy T.'s review of Nguyen Dan-Thao on Yelp
Read Emilie L.'s review of Hieu T Dao , DDS on Yelp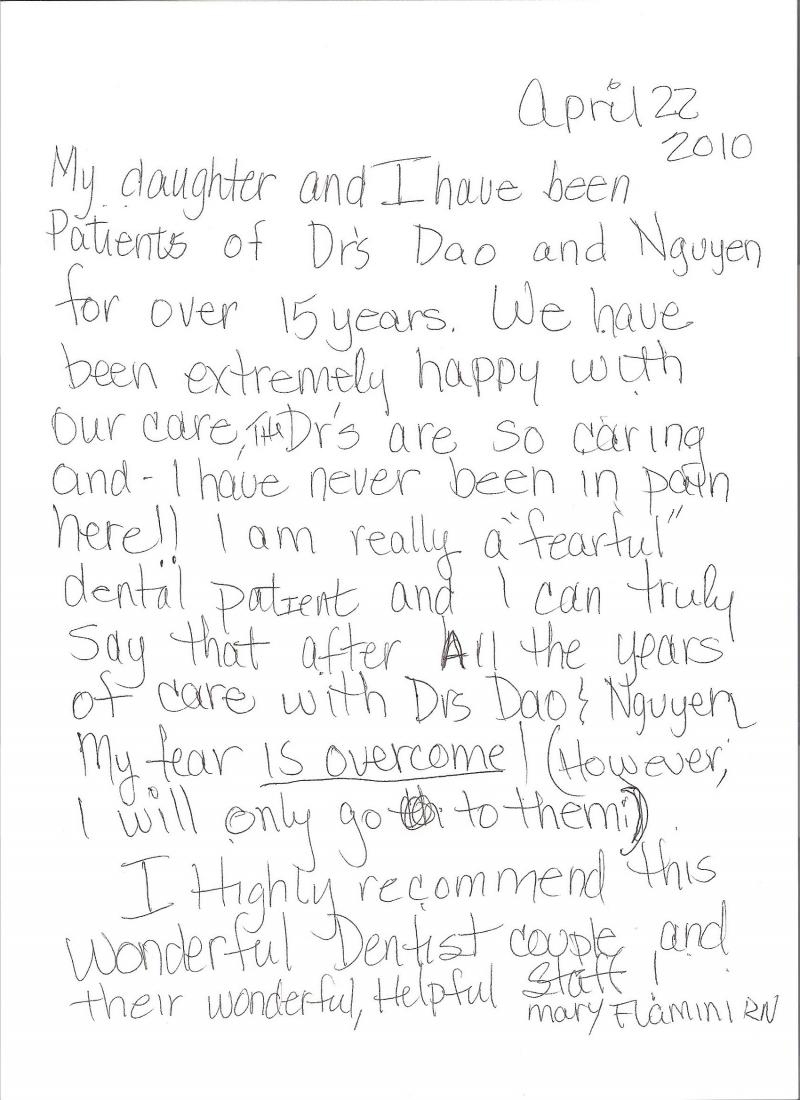 by Kelkelrenee
"Best Dentist Ever! Super friendly and personable! His receptionist always asks about my old roommate, my friend, my stepmother, because I've referred them all and she remembers that!! He's a great Doc and I have no complaints!" - Yahoo! Local User
"Great Dentist: I drive all the way from Fremont to go to this office. They are younger, professional and very sweet. I used to drive all the way from San Ramon. My little girl also goes and they treat her really great!"
"I was referred to Dr. Dao by a friend who highly recommended him. He is without a doubt the finest dentist I have had in my 79 years. He is very professional, takes pride in his work, is extremely gentle and caring and has a wonderful personality_always pleasant and puts you at ease. He has a great staff that is equally professional and friendly. In my opinion, Dr. Dao's the best!" - Mrs. Agnes Hirotsu
"I was very nervous coming to the dentist, I had a terrifiing experiences with a childhood dentist. Dr Dao and his staff were very patient with me. Always gentle, caring and helpful in easing my anxiety. I have been coming here for 15 years, as have my children. Our experience has always been positive. I would recommend Dr Dao to everyone that wishes a great dentist, inovative office, up to date equipment and technology, and with years of experience!" - Ms. Suzanne Varnum
"This letter is being written to highly recommend Dr. Dan Thao Nguyen. Dr Nguyen has been my dentist for the past sixteen years and during this long period of time she has provided me with excellent care. Not only is she a skilled dentist, but her patient care and professionalism are outstanding. She has made my visits painless and has kept my teeth in exceptional health.
I would unequivocally recommend her to anyone who is looking for outstanding dental care." - Mr. Albert Capesciotti Campbell, California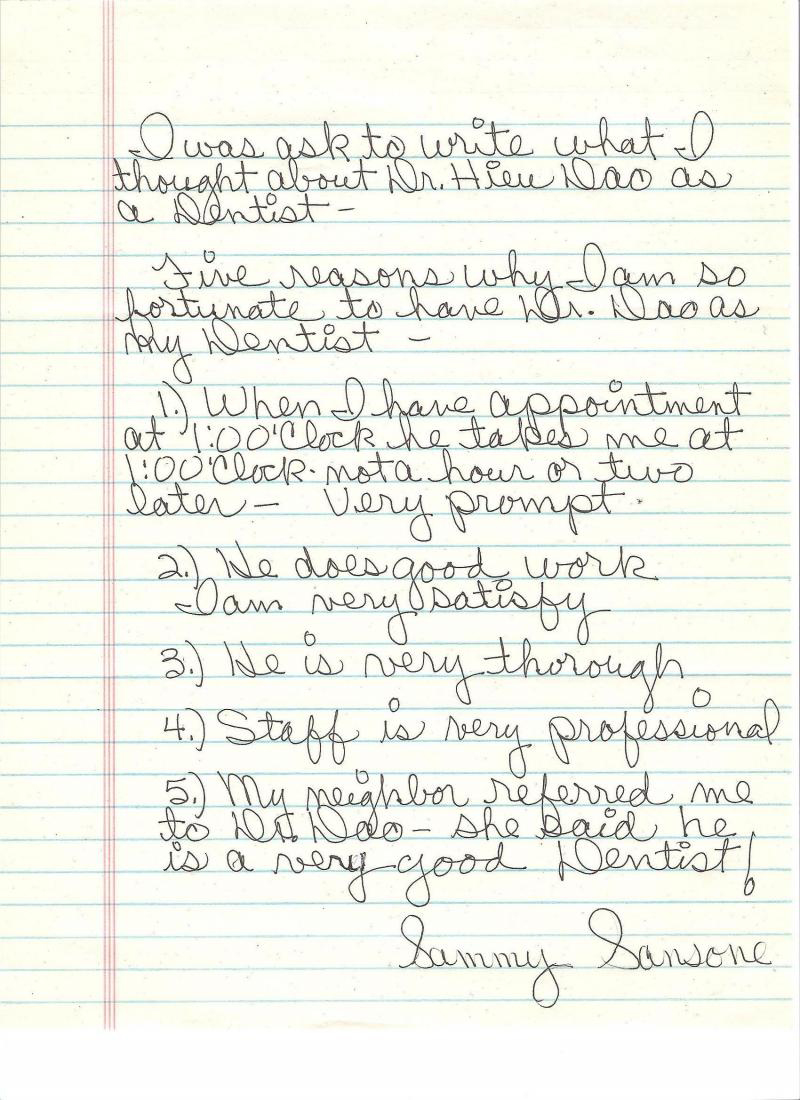 "The office of Dr. Dao and Dr. Nguyen are always friendly and they make every visit enjoyable. Everytime I come they put me at ease and are very gentle. I never feel like I at the dentist office. I always come out with a smle." - Ms. Carol Pham
"The doctors and staff are wonderful! Our whole family comes here - great with kids and adults. We receive the best of care, in an atmosphere which is professional, warm and courteous. Highly recommended!" - Ms. Kelly McHaffie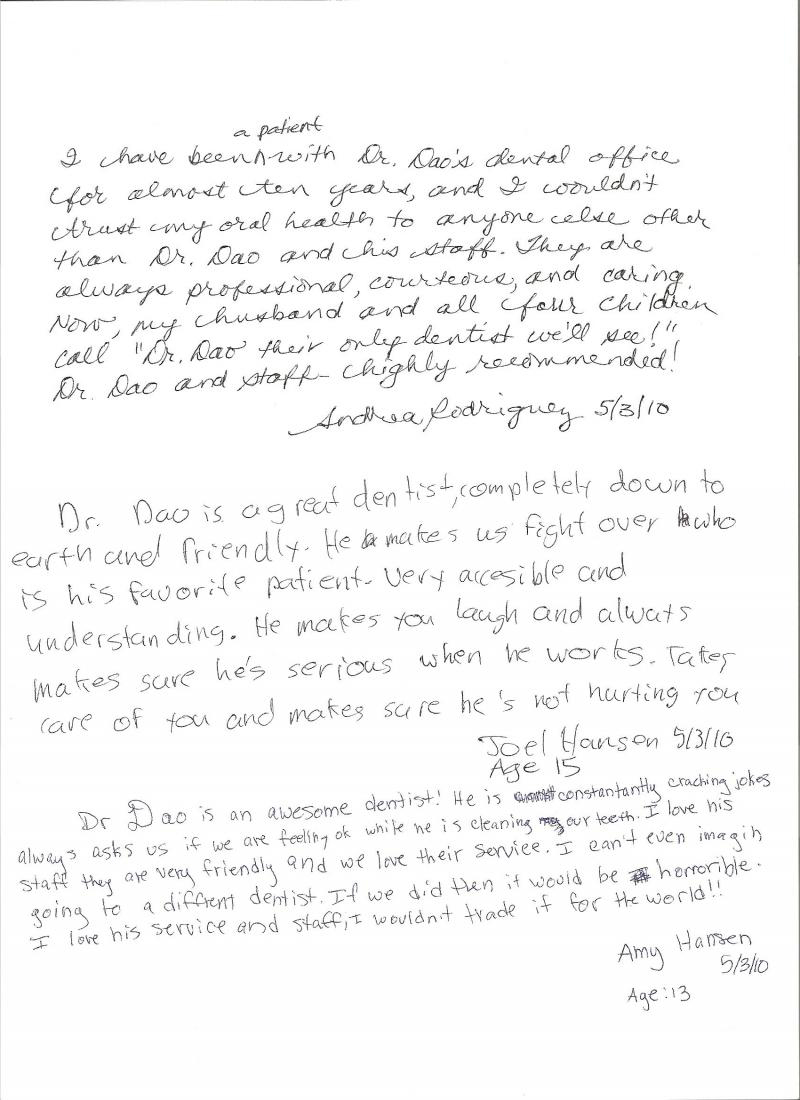 "For about 5 years I have been a patient of Dr. Hieu T. Dao, DDS; and he and his dental crew have taken excellent care of my teeth. My husband was my first dentist in my adult life, and he would praise Doctor Dao if he were alive today. I believe he told me that if I took good care of my teeth, I would live a long healthy life.
Things have come a long way from the days of the "spit sink" next to the dental chair! That "spit sink" took a lot of time away from getting the work done. It made every dentist nervous!
Put your mouth in Dr. Dao's care, and you will not be sorry. Lady Dao, his wife, is also an outstanding dentist in her own right."
- Jo Mary Keith, a long-time resident of San Jose
Mrs. Jo Mary Keith
"My family and I have been patients of Dr. Dao for the past 7 years. We are very happy with the care we have received from Dr. Dao and his staff. Everyone is so nice and caring and always treat us in a very professional manner. I have recommended Dr. Dao to several of my relatives as well as friends, and they too are very satisfied patients.
If you are looking for a good dentist, I would highly recommend Dr. Dao. He is great with kids too!" - Mrs. Christina Hernandez
"I feel much better after I started to come to your studio. My gums don't bleed anymore, before they were always bleeding when I was brushing my teeth. I also thank you for all tips and instruments you recommended to me as the waterpik which is very helpful to keep my teeth clean.
I really like Doc. Dao and all the staff, you are very kind and patient. Thanks for all your help." - Mr. Marco Gabellini
"Dr. Dao was referred to me by a friend who highly recommended him. He is without a doubt the finest dentist I have had in my 79 years. He is very professional, takes pride in his work, is extremely gentle and caring and has a wonderful personality_always pleasant and puts you at ease. He has a great staff that is equally professional and friendly. In my opinion, Dr. Dao's the best." - Mrs. Agnes Hirotsu
"I have been going to my dentist, Dr. Hieu Dao, for 5 years. He and his staff are excellent! Besides being a top notch dentist (skillful and capable) he is gentle and caring. It is a pleasure to go into his offfice every time. He was wonderful with my husband when he was ill with alzheimer. He is excellent with my grandchild. He is a wonderful family dentist." - Mrs. Karen Scott
"From the very first visit in 1997, I have been impressed with the expertise and professionalism of Dr. Nguyen. The friendly staff are always wonderful and I feel a special relationship that is so unusual in a business office. At last, I look forward to a dental appointment!!" - Ms. Carmie Jimenez
"Dr. Dao is a great dentist who cares for your teeth as well as your comfort during your visit. He always checks on you throughout any procedure to make sure that you are doing well. There is very little time spent waiting for your appointment. he works quickly and the results are always perfect." - Mrs. Skye Duncan
Dr. Dao DDS:
"Office staff is very friendly and helpful. They remember me every time I came in. They ask me how I am and my husband is. My husband was the one who referred me to the office. The dentists are both gentle when they work on your teeth and they always ask if you are comfortable and if not then they ask where the pain is. I would definitely recommend seeing the dentist at Dr. Dao's office." - Mrs. Maria Martinez
"I actually look forward to coming to Dr. Dao's dental office. Dr. Dao and his staff are friendly, excellent, and professional."
- Ms. Janina Trawinski
"When I first came to Dr. Dao it was the 1st time I had been to the dentist in years and I had lots of cavities and work that had to be done. Dr. Dao did a great job, and now I try to take care of my teeth better, and don't have too many problems anymore!"
- Mr. Kevin Burke
"I have been going to Dr. Dao for about 3-4 years now since a good friend of mine recommended him to me. Before meeting him, I went to several dentists to try and find someone that I felt I could trust since I had not been to a dentist in several years and needed some major work done. I felt that several dentists were dishonest. For example, one dentist recommended I get braces to correct my night grinding.
Dr. Dao has always been honest with me and takes the time to explain what dental work I need and why. He always tells me what is necessary and what would be a nice cosmetic enhancement, that way I am given the choice about what makes sense for me. He always works with me and has very reasonable rates.
His facility is top of the line and his staff is always very kind and professional. Over the years, I have come to trust Dr. Dao and respect him as my dentist and as a friend. My teeth are in the best condition ever and I am sure Dr. Dao plans to keep them that way, as long as I promise to brush and floss. =)"
Sincerely,
Jennifer Yuen
"Dr. Dao and his entire team is AMAZING! My family and I have been patients for over 20 years. The level of care I receive has prompted me to recommend their services to all of my friends and co-workers. Not only does the entire team strive to provide the best dental care, they are also genuinely interested about you as a person. There isn't a single appointment reminder call or visit that goes by where I'm not asked about how things are going at work, with my son and life in general. I appreciate the proactive efforts in helping me maintain great oral hygiene as well as the comfort and compassion when I need advice or corrective action all while remaining extremely professional, friendly and flexible. Thank you for being the BEST dentist in San Jose -- Kendra B."
"Dr. Dao has been my dentist for 20 years! I am absolutel terrified of Dentists probably due to traumatic childhood experience! I can sincerely report that Dr. Dao is the nicest most gentle dentist ever! I have never been hurt in 20 years!
He has the newest technology in his office including the use of "Digital impressions" instruments!!! No more yucky Goo in your mouth for a crown or 'other' procedure!
His office is clean and pleasing and his staff are incredibly awesome.
I would recommend him to anyone who is looking for a Dentist with the utmost confidence!
You will Love him!

Ps. His wife Dr. Nguyen is pretty awesome too!!! -- Mary F."